EIN Super Wood
Material that keeps on circulating with non-burning technology
Resurrected Timber
EIN Super Wood

EIN Super Wood is a recycled timber made from "recycled wood" and "recycled plastic". Even after using the product, the material can be recycled, so the "material circulation" is repeated.
[Originality of EIN Super Wood] 3 pillars
EIN Super Wood offers a wide range of materials from free design materials to combination systems for decks and processed products for parks.
Profile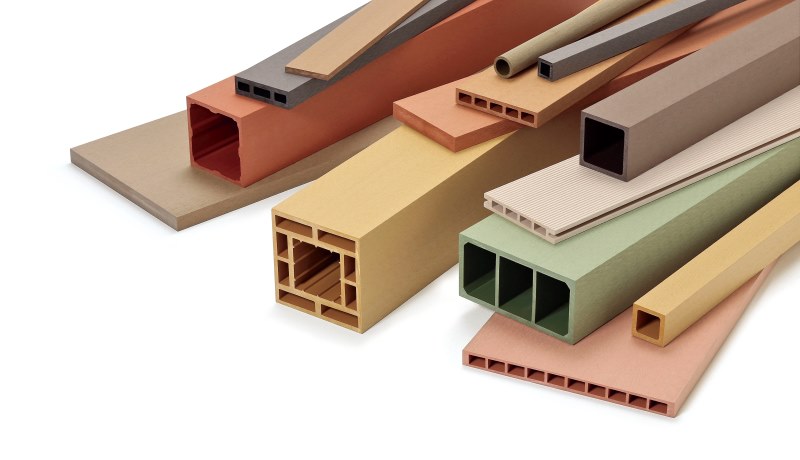 EIN Super Wood is characterized by natural textures such as natural wood texture, fragrance and warmth.There are 13 unique playful color variations. In addition, 28 cross-section variations allow you to design freely as if you play with building blocks.
Manufacturing Flow of EIN Super Wood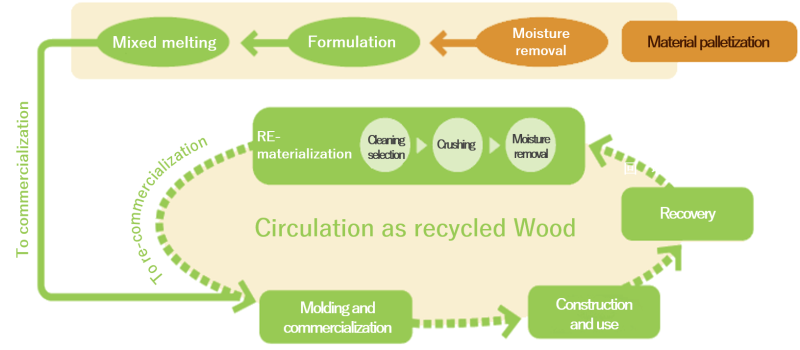 Combination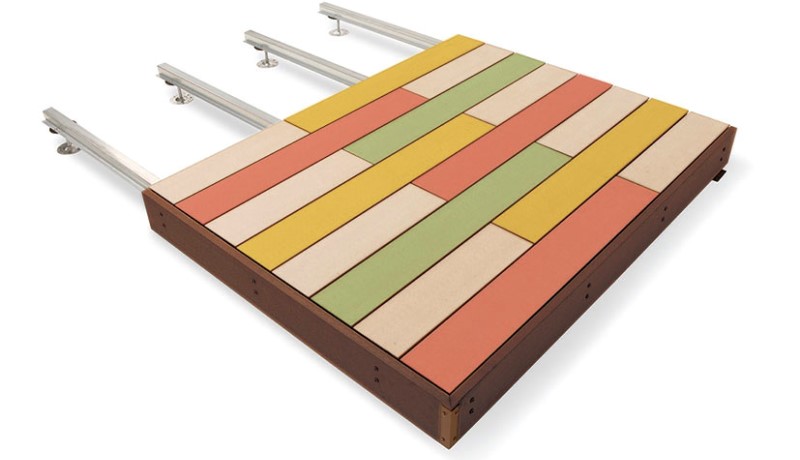 EIN Super Deck 22 is a combination of a base steel material with high corrosion resistance, an abundance of flooring materials, and color variations, enabling easy and speedy construction. In addition, only the floorboard can be replaced,so it has excellent maintenance.
What is ZAM®?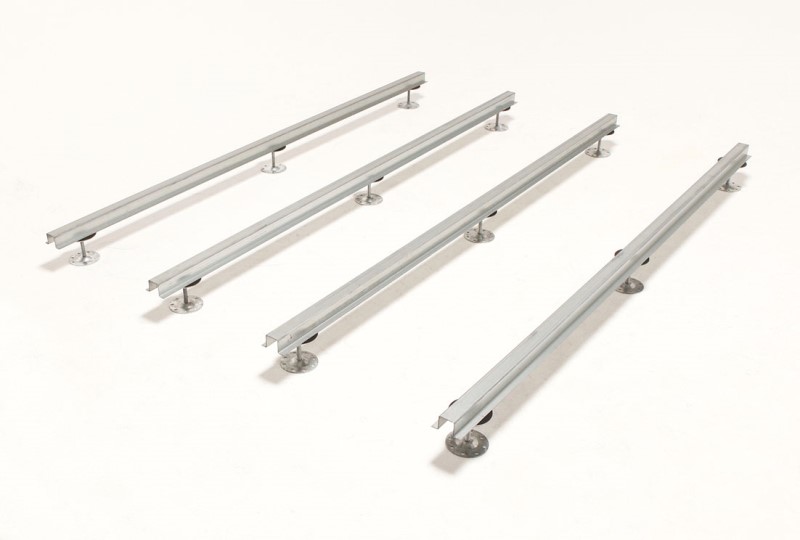 ZAM® is a highly corrosion-resistant melt plating that exhibits excellent corrosion resistance. Due to the effect of Mg and AI contained in the plating layer, a dense protective coating with strong adhesion is formed on the plating surface with the passage of time, which suppresses the progress of corrosion of the plating layer. Even at the cutting end surface, a dense zinc-based protective film containing MG and Ai, which melts from the plating layer, covers the end surface and exhibits excellent corrosion resistance.
Product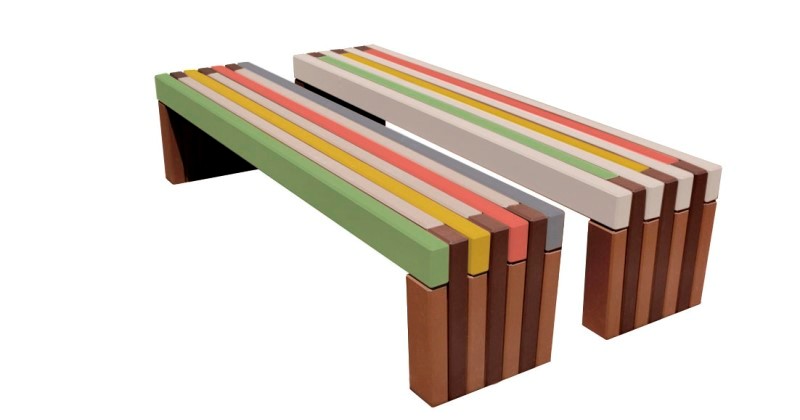 Processed products such as pergola, benches, fences, tables, signs, and arbors having a warm natural texture and high durability that have a warm and natural texture and are highly durable can be quickly adapted to public facilities and park construction.
High weather resistance and durability
Because of a composite made by wood and plastic, it is resistant to high humidity environments and water, and is not affected by decaying fungi and termites. The difference in weather resistance and durability is obvious when compared to natural wood outdoors in harsh environments.

A Park in Hyogo Prefecture
Comparison of secular change due to simultaneous construction (16 years)
EIN Super Wood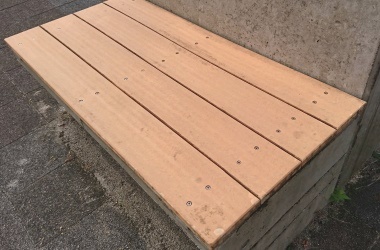 No crack、a little fade-out
Natural Wood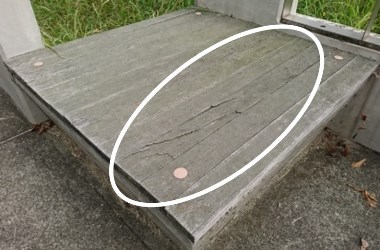 Cracks&hangnails,fade-out
Online Catalog
See specifications,cross-sections,color variations and examples
e-Bench
Ready-Made benches satisfied with excellent texture and durability made of EIN Super Wood
SQUARE(NEW)
【Color 】 Real Wood :Red Wood・Teak・Dark Oak(Coating Color)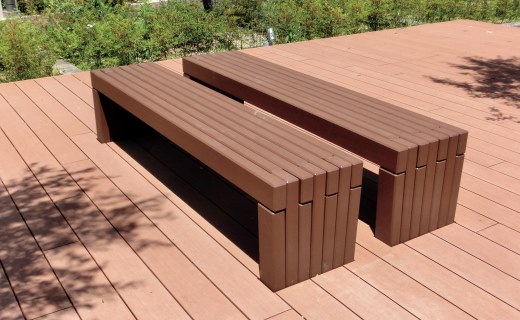 Short Length L1200

Standard design price
(without tax)
&yen240,000

W 1,200mm
D  374mm
H  400mm
Middle Length L1500

Standard design price
(without tax)
&yen260,000円

W 1,500mm
D  374mm
H  400mm
Long Length L1800

Standard design price
(without tax)
&yen270,000円

W 1,800mm
D  374mm
H  400mm
【Color】Random Selected Color
 (Transparent Coating)
Flat
【Color】 Real Wood :Red Wood・Teak・Dark Oak(Coating Color)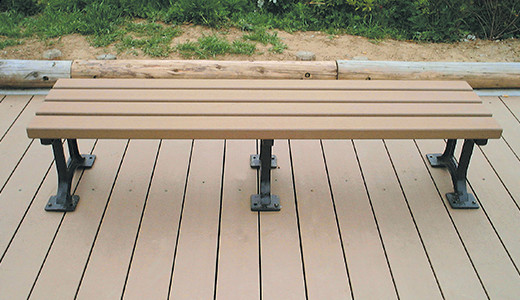 Short B-040

Standard design price
(without tax)
&yen76,000
Long B-041

Standard design price
(without tax)
&yen97,000
High Back
【Color】 Real Wood :Red Wood・Teak・Dark Oak(Coating Color)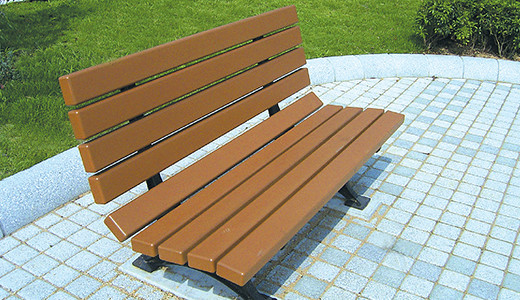 Short B-043

Standard design price
(without tax)
&yen145,000
Long B-044

Standard design price
(without tax)
&yen180,000