Building materials
It is our responsibility to reduce and immobilize the CO2 emissions and support resource recycling based on environmental technologies.
High weather resistant wood deck

Excellent integration with EIN super wood and high corrosion resistant molten-plating called ZAM®
EIN Super Deck 22
Features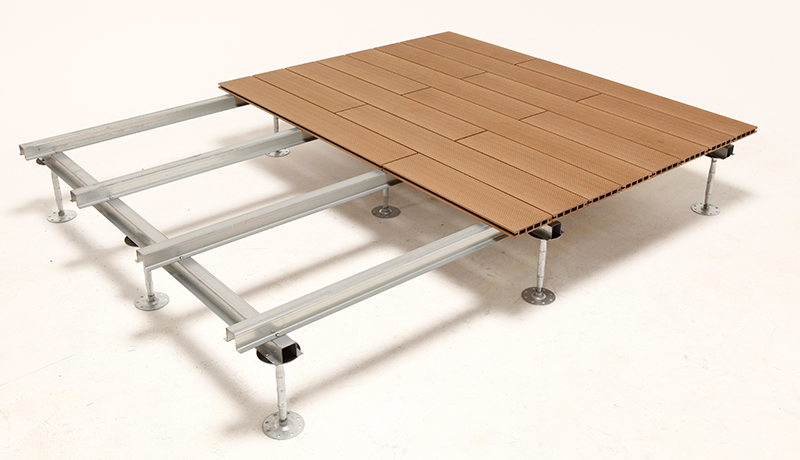 The base steel materials used in the EIN Super Deck 22 (Joists material, large pull material, pile top) use ZAM®, the corrosion of the steel does not spread even if it is cut, drilled or processed at the site.
What is ZAM® ?
ZAM ® is a highly corrosion-resistant melt plating that exhibits excellent corrosion resistance. Due to the effect of Mg and AI contained in the plating layer, a dense protective coating with strong adhesion is formed on the plating surface with the passage of time, which suppresses the progress of corrosion of the plating layer. Even at the cutting end surface, a dense zinc-based protective film containing MG and Ai, which melts from the plating layer, covers the end surface and exhibits excellent corrosion resistance.
Hight Durability

The EIN super deck 22 of the floor board is free from insect damage and corrosion by bacteria, and it can be used for a long time. Also, high corrosion-resistant molten steel are used for structural materials at the bottom of the deck (joists, large pull) and designated bundle, designed to withstand all outdoor environments.

Safety

Since that the EIN Super Deck 22 is fixed by using a special clip, the screw does not come out on surface. You can walk barefoot with confidence.

Easy Operation

The EIN Super Deck 22 is systemized by an exclusive clip for the installation of the floor board, a hat shape steel of the base material and an exclusive bundle for the height adjustment that make the construction be done quickly and easily.

Ecology

EIN Super Deck 22 uses waste wood and waste plastics as raw materials and contributes to effective use of resources.

Economy

EIN super deck 22 can replace if the floorboard is damaged or damaged in the future, it is also possible to exchange only the floorboards you want to replace.

Hight Quality

It maintains the same texture as natural wood, and you can feel the natural warmth.